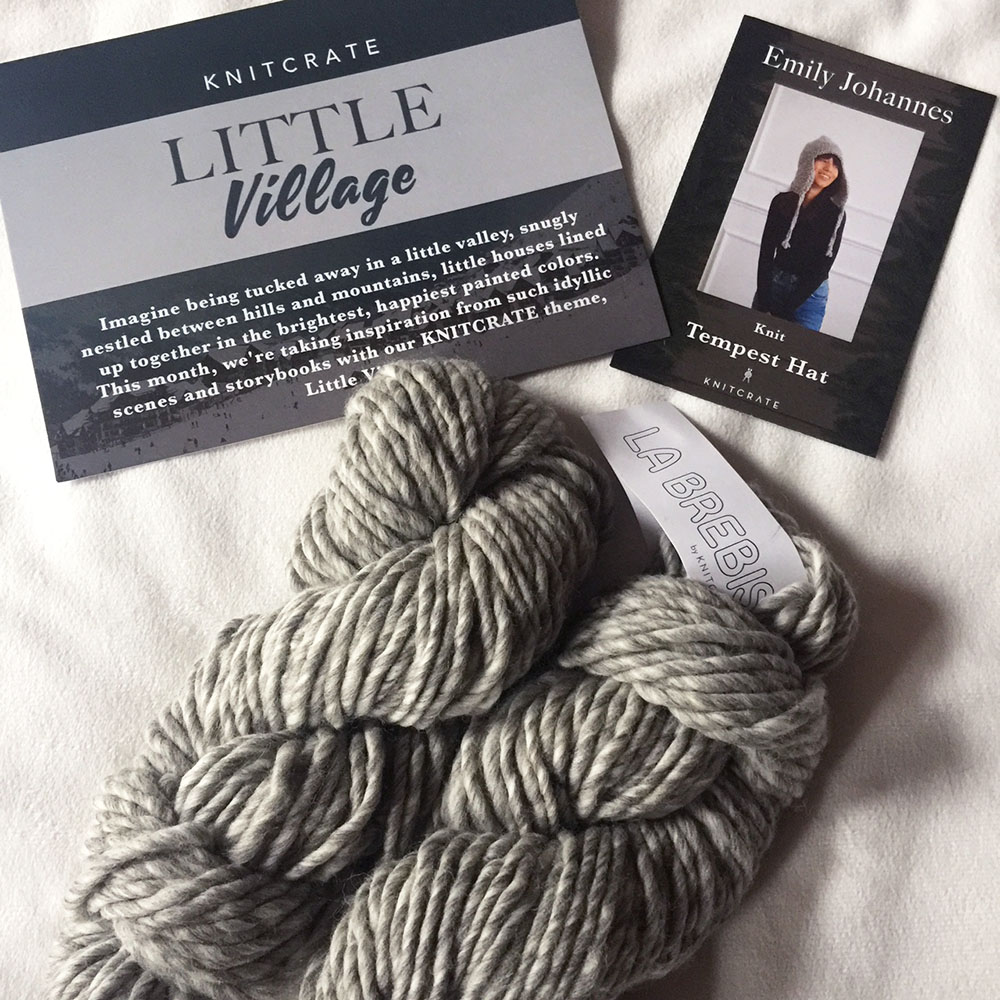 This month I am excited to be reviewing KnitCrate's newest addition – their Membership Box!  This box is only $24.99/month, and includes 2 skeins of premium yarn, 2 exclusive patterns (1 knit and 1 crochet), plus free shipping worldwide!  The value of this month's box was $63, so it's quite a deal 🙂
I was so delighted when I received this month's yarn – it is "La Brebis", a super bulky (and super cozy) soft spun yarn in a beautiful heather grey colorway called "Storm".  The yarn is 100% Peruvian Highland Wool at 60 yards per 100 gram hank, with a suggested needle size of US 15. I actually used size 10.5 needles to make an improvised hat, and it only took 2 hours! (see below for the pattern 🙂 )
2 hanks of this yarn were provided, with 2 pattern options – a knitted earflap hat and a crochet cowl.  The hat is called the "Tempest Hat" by Emily Johannes and the Cowl is the "Frost Flower Cowl" by CJ Brady. Both are super cute and cozy and fit in with this months theme of "Little Village" – I can totally imagine these 2 accessories being worn in a snowy little village!
Turns out this crate is already sold out (the new Membership Crate has been very popular!), but you can sign up for the membership to get future boxes here: http://mbsy.co/gNVBP  Also, if this is your first time trying KnitCrate, you can get 20% off your order by using coupon code GIRLY20 at checkout, woohoo!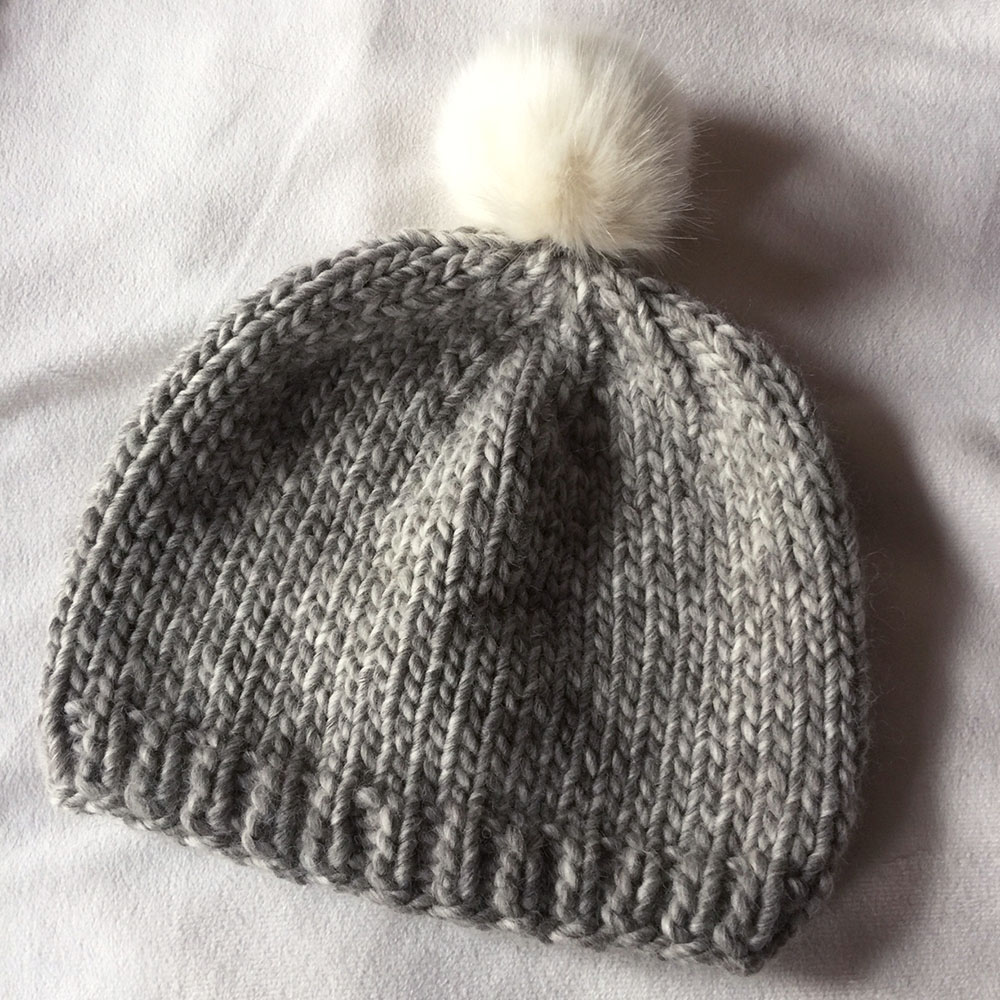 Soooo before I received this crate I was struggling with what to make for my Secret Santa, but after receiving this lovely yarn, I thought hey, I should use this!  My co-worker loves grey, and I figured a simple knitted hat topped off with a pom pom would be the perfect present.  I actually got the pom pom from H&M – it was on a keychain and only $5.99! 🙂
This was such simple and quick (and cute!) knit that I thought I would share the pattern with you – it has a generous fit and should fit a male or female adult.  Here it is!
Materials:
70 yards of Super Bulky Weight yarn
1 large pom pom
Needles: US 10.5 (6.5mm) 16″ circular needle
Gauge: 2.5 sts/inch, 4 rows/inch
Finished Measurements: 21″ circumference, 9″ long
Directions:
Cast on 54 sts.  Place marker for start and join, taking care not to twist stitches.
Work in k 1, p 1 rib for 4 rounds.
Knit until hat measures 7″ from beginning.
Decrease for Crown:
Round 1: [K4, k2tog] x 9 – 45 sts.
Round 2: Knit.
Round 3: [K3, k2tog] x 9 – 36 sts.
Round 4: Knit.
Round 5: [K2, k2tog] x 9 – 27 sts.
Round 6: Knit.
Round 7: [K1, k2tog] x 9 – 18 sts.
Round 8: Knit.
Round 9: [K2tog] x 9 – 9 sts.
Round 10: [K2tog] x 4, k1 – 5 sts.
Break yarn, leaving approximately 4″. Thread yarn with a tapestry needle and draw through remaining sts, then to inside of hat.  Pull tightly, tie a knot, and weave in tail to inside of hat.  Weave cast on tail to inside of hat.
If you got a pom pom keychain like I did, detach chains so that only one chain loop is left.  Cut a 6″ piece of yarn to draw through loop, then tie on to top of hat, double knotting yarn on inside of hat. Weave in ends.  (If you dont have a loop, you can use a sewing needle and thread to sew the pom pom onto the top of your hat).
And you're done!  That was easy, right?  Hope you enjoy!  Happy Holidays! 🙂
Lauren
Save
Save
Related posts: