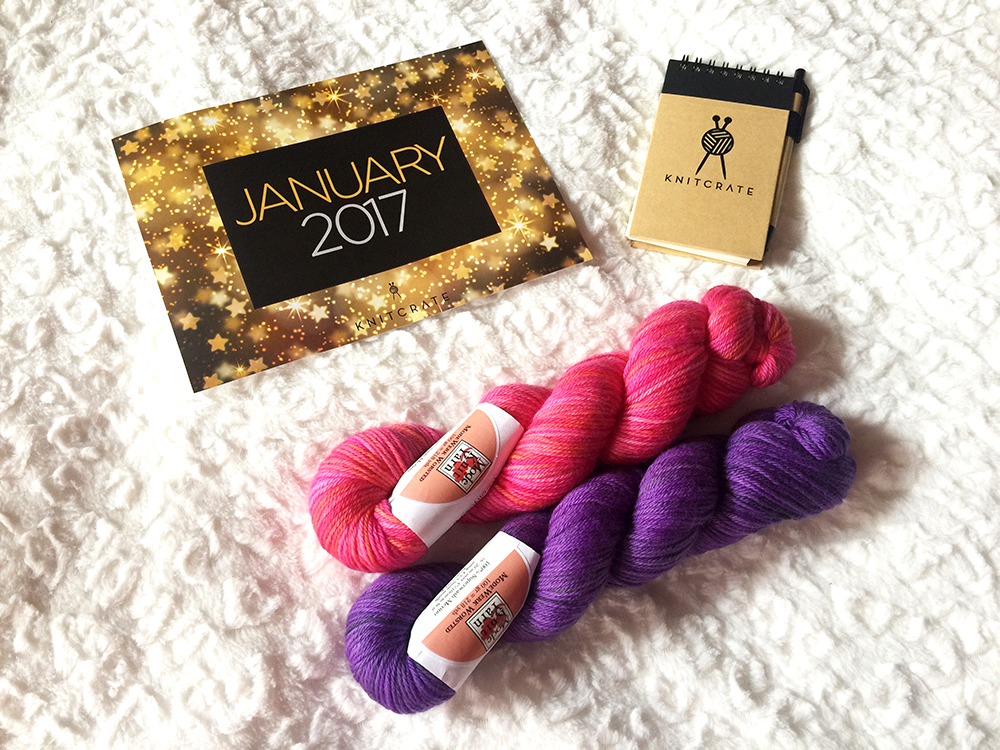 This month I am so excited to share my first review of KnitCrate, a subscription box for knitters!  Each month they send you a knitting project with a pattern and all of the yarn you need to complete the project.  The main box includes 2 pattern options for the featured yarn (a beginner as well as an intermediate/advanced version for you to choose from) and an extra fun goodie!  There is also a sock version of this box for sock lovers, so fun!
Below are the contents of their February main box and sock box.  If you like what's inside, you can actually purchase these boxes if you start your subscription by the end of the month!  You can also get 20% off your first month with coupon code GIRLY20, OR a free mystery box with code FREECRATE at checkout, woohoo!!  The one I got is above (pink and purple yesssss), more info about that at the bottom of this post 😉  Check out all of the details on starting your subscription here:  http://mbsy.co/gNVBP
KnitCrate February Box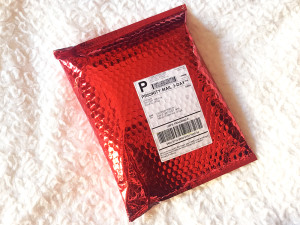 So first of all, KnitCrate's packaging is super cute.  I saw this bright shiny red package near the mailboxes as I was walking into my apartment building, thinking "That's so sweet!  Who could that be for?!"  and…to my surprise, it was for me!  It also happened to be right before Valentine's Day when it arrived so this was a super special Vday treat

I was delighted when I opened it up to find 3 skeins of Mrs. Crosby "Steamer Trunk", a gorgeous semi-solid 100% Merino Wool yarn in Lagoon, Garden House, and Smitten.  The pattern for the yarn is a patchwork purse, with a "Triangle" and "Mitered Square" option.  Who doesn't love options?!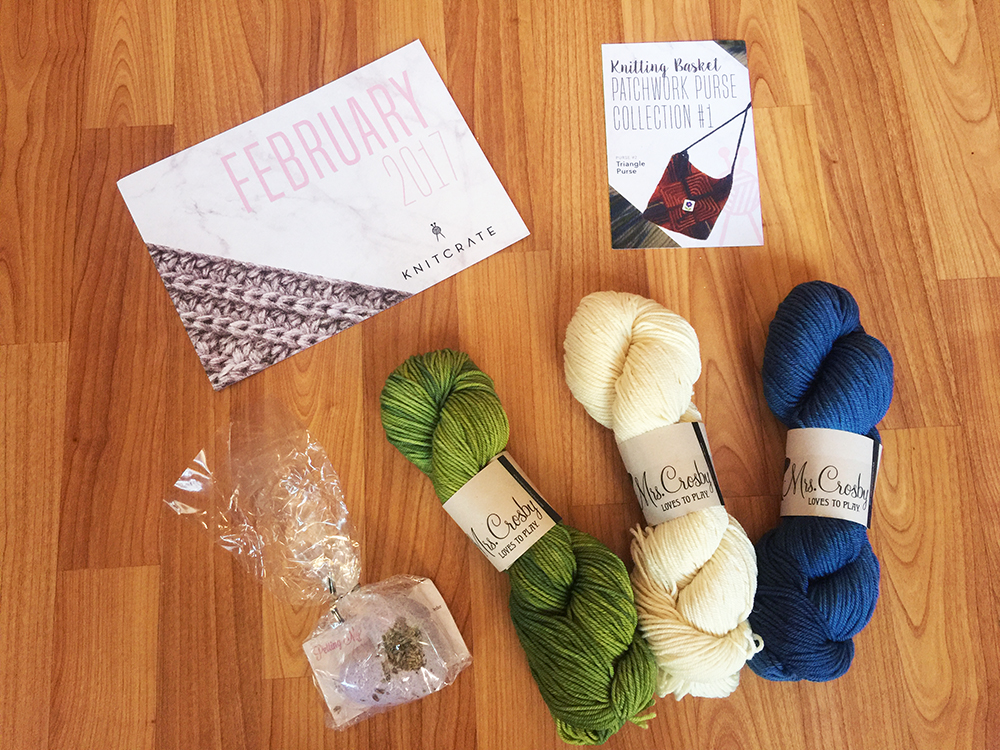 Also included in this package was an adorable heart-shaped lavender and shea butter bath bomb by Etsy artisan Petting My Unicorn.  It smells absolutely amazing and I can't wait to use it!  I hear it's got Epsom Salt in it too which is perfect for soothing those sore knitting muscles 😉  Want to get your hands on this awesome project?  Get it here!  And don't forget to use one of the awesome offer codes mentioned above

KnitCrate February Sock Box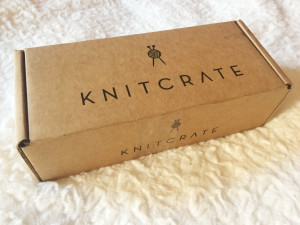 I was thrilled to also receive the February Sock Box.  But seriously, how fun is it to open a box and be surprised by what's inside?  I personally love surprises and find the un-boxing of the mysterious goodies inside to be half the fun

The sock yarn included in the February box is Mrs. Crosby "Train Case", a blend of 55% Merino Wool, 15% Nylon, and 30% Outlast Viscose, a unique fiber that extends the life of your socks!  Apparently this unique colorway with flecks of gorgeous blues and greens was made especially for Knit Crate subscribers, how cool is that?!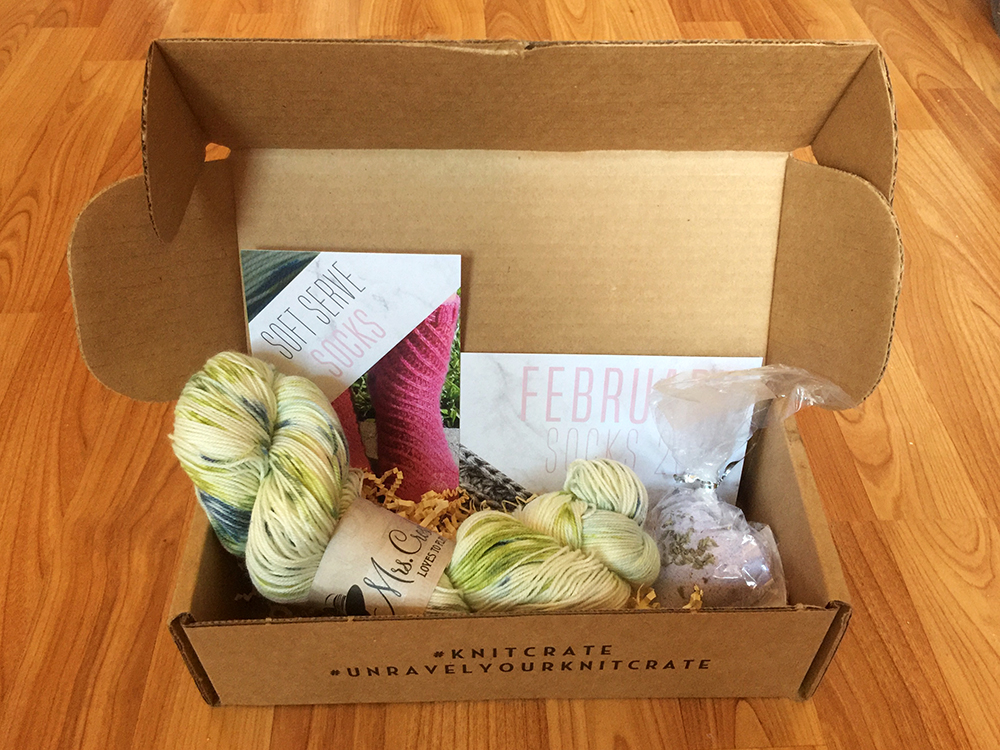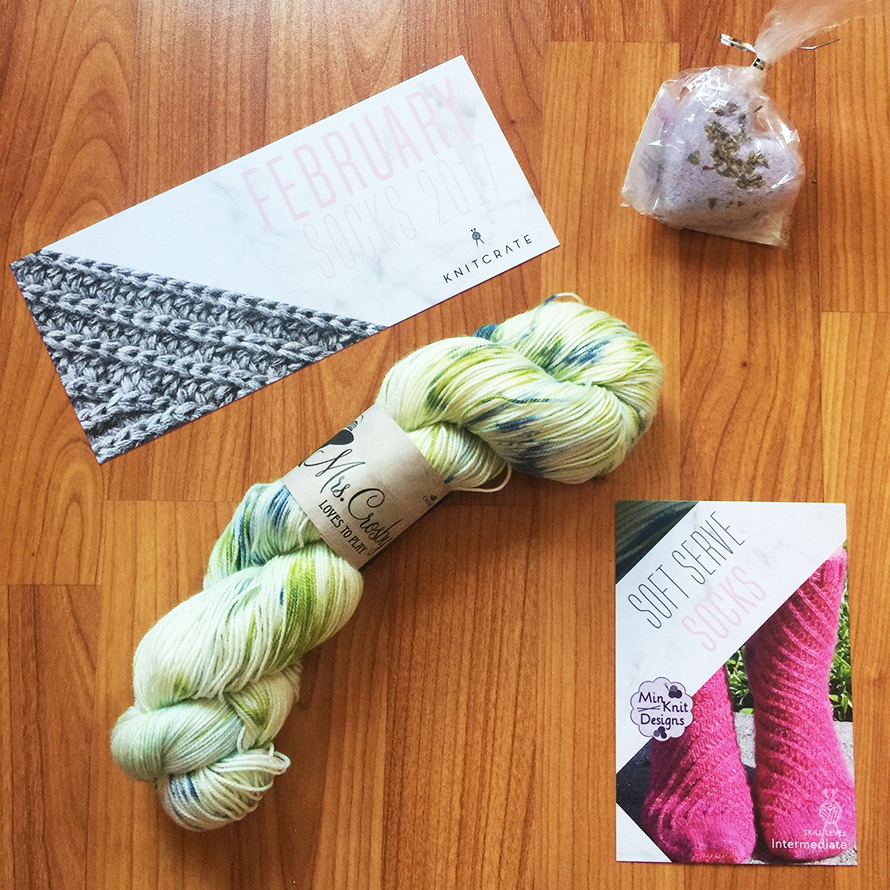 The pattern included is a design by Mindy Vasil called "Soft Serve Socks", which feature a beautiful swirling lace pattern that goes all the way up the socks!  I can't wait to see how the colors in the yarn knit up in this pattern.  Also included in the sock box was the lavender bath bomb for double the love!  I gave it to my friend Katie as a sweet Valentine's treat since I was so lucky to receive two

Another awesome feature in the boxes is that you get special promo codes for knitting products, at least 2 per box!  In this box was a discount for more patterns from the designer, and the Petting My Unicorn shop.
KnitCrate January Box
Because KnitCrate is amazingly awesome, they also sent me their January box to review since they know how much I love pink and purple

  The postcard for this box is just so fun – even though New Year's has come and gone, it totally got me excited about the new year all over again!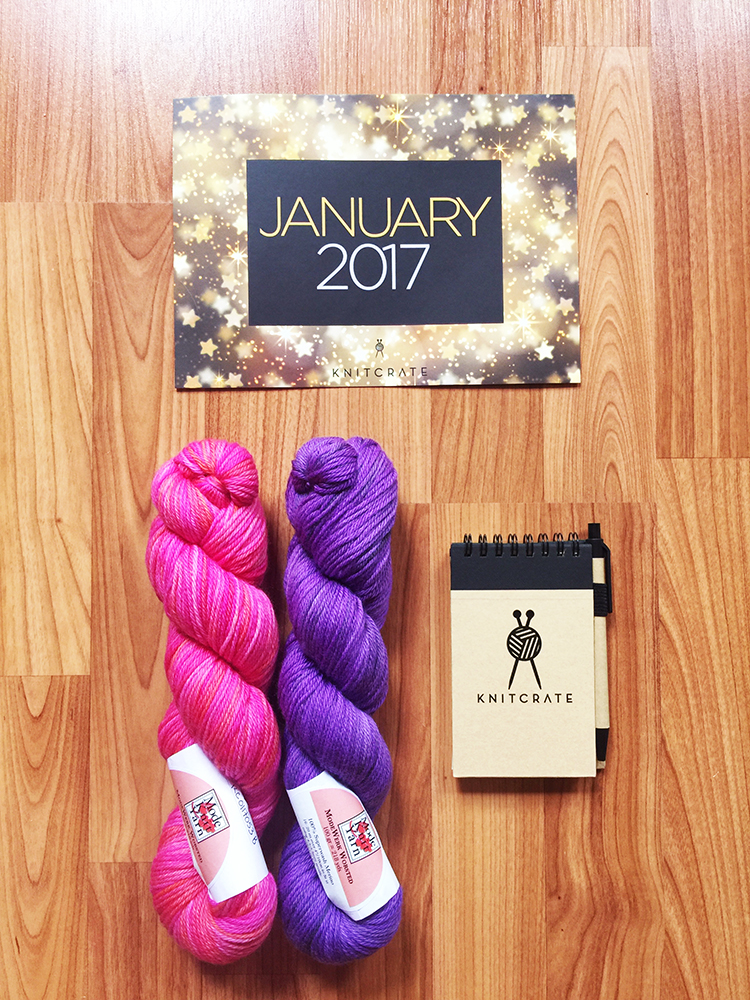 Inside this box were 2 hand-dyed yarns by Mode Knit Yarn, "ModeWerk", which is a super soft 100% superwash Merino Wool yarn, in the Daenerys Eyes and Mercury colorways.  The pattern options for this yarn are a beginner's scarf pattern, and a intermediate/advanced lace cowl pattern by Annie Modesitt.  As someone who could tackle either skill level, I find it really nice to choose which design I would prefer to make!
The fun extra included in this box was a KnitCrate notebook and pen.  I feel like KnitCrate really understands their customers, because us knitters are always taking notes!
As I mentioned before, you can get a free mystery box just like this when you use coupon code FREECRATE with your monthly subscription, OR get 20% off your first month with coupon code GIRLY20!  Please note that these only apply to the month to month subscription, and not to the 3 & 12 month plans as those are already discounted!  Sign up to try out Knitcrate and see if it's something you would enjoy getting in your mailbox each month here:  http://mbsy.co/gNVBP
Overall, I really enjoyed this service, and can't wait to try out these yarns and patterns.  I appreciate the care and attention KnitCrate puts into making their boxes joyful to receive, with tons of value and surprises inside.  I hope you enjoyed this review, and please let me know if you have any questions!  I look forward to sharing more boxes with you

Save
Save
Save
Save
Save
Save
Save
Save
Save
Save
Save
Related posts: