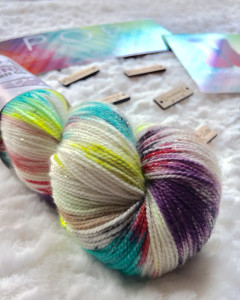 This month I had the pleasure of receiving all of KnitCrate's July monthly boxes, and getting to unbox and review them all in a super fun Facebook Live video!  The video of me opening up and sharing the contents of each box is here, and I will also be sharing the specific contents of the boxes below 🙂
The theme for this month's boxes was "Pop", as all of the crates featured bright and punchy pop colors!  You can find all of the boxes mentioned on KnitCrate's site, which will be available until the end of the month.
These boxes all contained so much joy, and I'm excited to share with you more about them 🙂
In this month's Aritsan Crate (previously known as the Main Crate), I was delighted to receive this bright and beautiful royal blue yarn!  It is a fingering weight yarn by Artisan Yarns called Sockpaca in the "BooBerry" colorway.  The fiber content is 60% SuperWash Merino Wool, 20% Alpaca, and 20% Nylon, and there are 440 yards per skein.  It is incredibly soft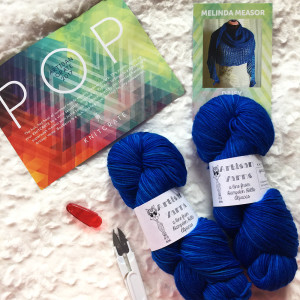 and luxurious feeling, so that along with the subtle color variations of the blues make this yarn really special.
There are two featured patterns in this crate, a beginner shawl pattern called "Daisy" by Melinda Measor, and an intermediate/advanced shawl pattern called "Bluebell" by the same designer.  Both feature gorgeous lace patterns – either of these shawls would make quite the statement in this vibrant color!
Also included is this box is a pair of Yarn Safe Knitting Shears, the perfect scissors for travelling!  You can find this box and all of the other "Pop" boxes here.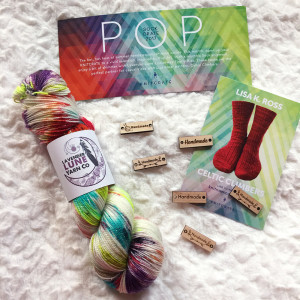 Sock Crate
Up next is the Sock Crate (also featured in the first up-close photo) – isn't this yarn stunning?!  It is a fingering weight yarn by Lavender Lune Yarn in the "Firefly Riot" colorway.  Not only does it have beautiful speckles of reds, yellows, teals, and purples, it's got some sparkle in it too!  It is made up of 75% SuperWash Merino, 20% Nylon, and 5% Gold Stelina, and is 438 yards to the skein.
The featured sock pattern is "Celtic Climbers" by Lisa K. Ross, which showcase a fun cable-like lace pattern climbing up the sides of the socks.
Also in this box are some adorable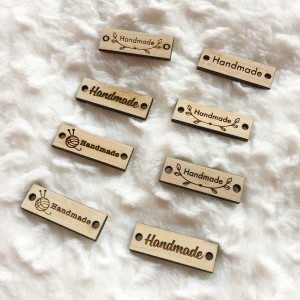 "Handmade" tags that you can put on your knitted gifts!  The tags feature a variety of fonts and motifs and were made exclusively for this KnitCrate box by Johavi Woodworking!  Pick up this awesome box before it's gone here 🙂
This month's Pop Crochet Crate is definitely perfect for anybody who loves orange!  The featured yarn is a Sport Weight 100% SuperWash Merino wool by OMG Yarn at 345 yards per skein.  This fantastic yellow and orange colorway (which looks like the sun, am I right?!) is called "Rushmore", and comes with 2 crochet patterns!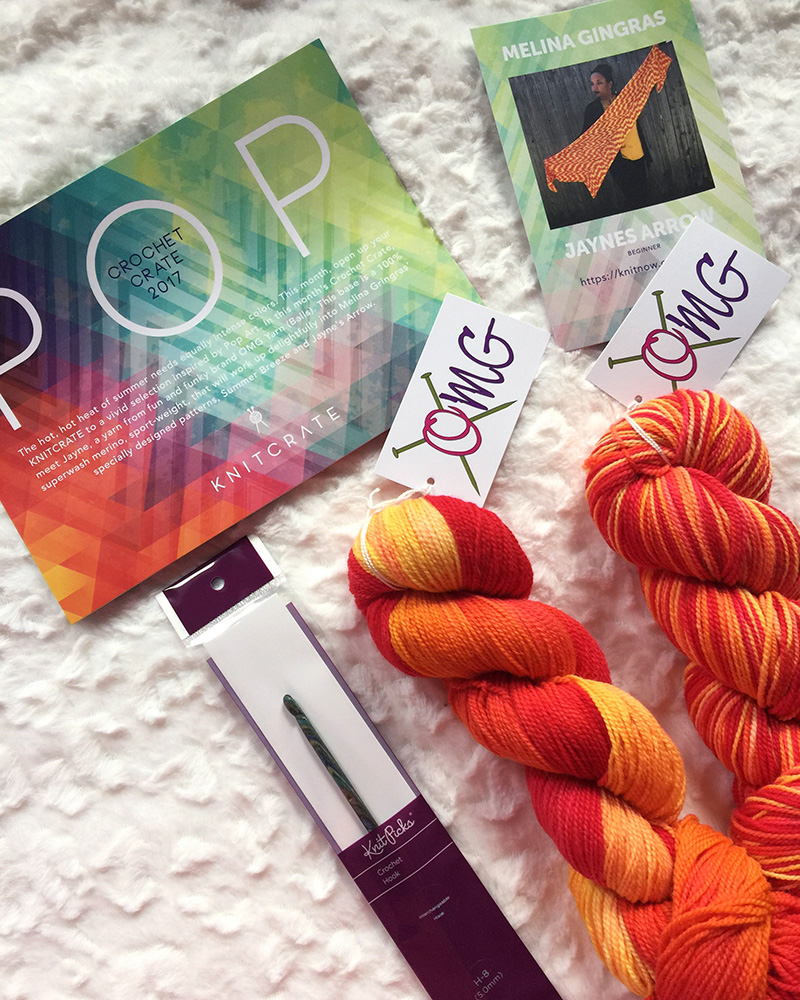 The beginner pattern is a shawl pattern called "Jaynes Arrow" and the intermediate/advanced pattern is "Breezy's Tee", an oversized lacey tee that would make for the perfect beach cover up!  Both patterns are by designer Melina Gingras.
The fun extra in this month's Crochet Crate is a beautiful rainbow wood crcohet hook by KnitPicks in size H-8 (5mm).  You can get this crate here!
Lastly, I received the Knitologie Crate, which is a no frills crate that simply contains 2 skeins of an exclusive hand dyed luxury yarn that you can dream up whatever you want with.  What I love about this crate is that this yarn is truly unique and you can't buy it anywhere else as it is only for KnitCrate subscribers!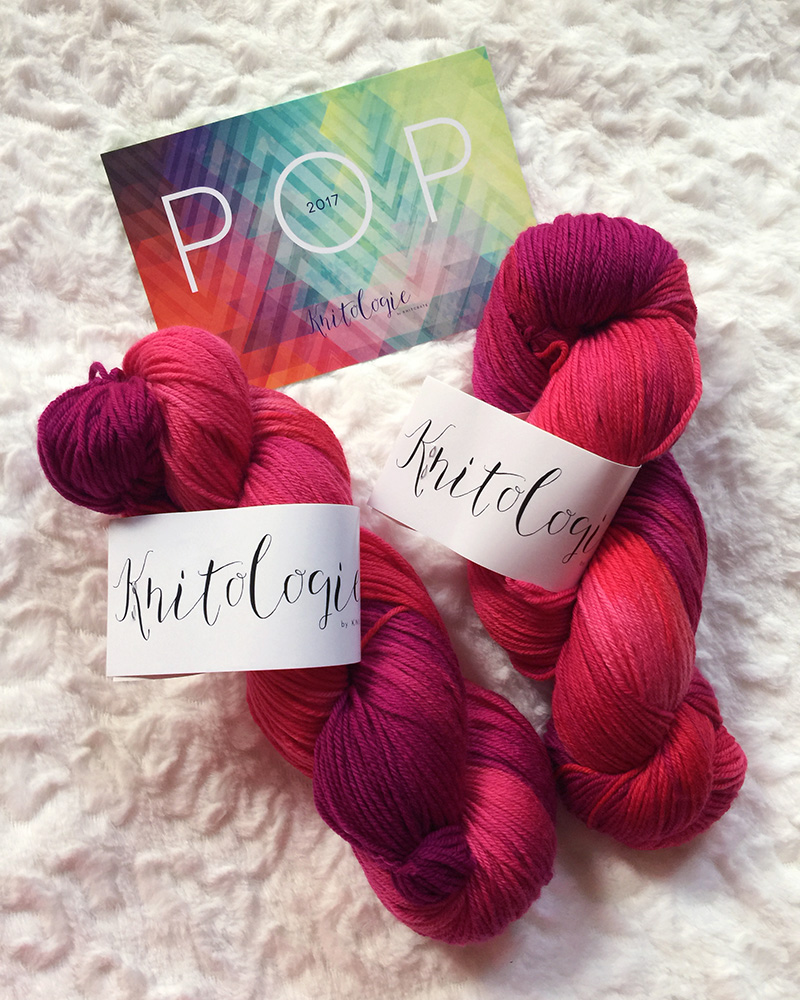 The exclusive yarn in this month's crate is a Sport Weight 100% SuperWash Merino Wool at 330 yards per skein.  Of all of the colors in this month's Pop crates, this one is definitely my fave as it's a blend of my 2 favorite colors, pink and purple!  Together they create a stunning hot pink/purple magenta-like combo that I am totally obsessed with.  The color is called "Kiss" which makes sense to me 😉  While this crate has no patterns or tools, it does contain 5 different discount codes for the yarns and tools featured in the other boxes, ranging from 10-25% off their shops!  And just so you know, all of the other crates feature 2-3 discount codes for the companies of the featured fiber goodies as well.
If you would like any of the boxes mentioned above, you can get them by becoming a KnitCrate subscriber to the box you want by the end of this month!  KnitCrate has also given me some special coupon codes for you to use when you try out their monthly subscription – use GIRLY20 to get 20% off your first box OR use FREECRATE to get a free mystery box!  These codes apply towards all box options here: http://mbsy.co/gNVBP  Enjoy! 🙂
Save
Save
Save
Save
Save
Related posts: