I had so much fun with last month's interview with Carrie, that going forward I am planning on doing an interview with an awesome knitter every month!  This month's interviewee is Jess, an incredibly talented and fashionable knitter, who I discovered when she purchased my "Meow" eyemask pattern!  You can tell that she has a lot of fun with her knitting which I love; all of her projects are super playful with a sense of humor inserted into them!  I hope you enjoy learning more about Jess and her love for knitting, and are inspired by her projects!

All of the images of Jess's hand knit items below link to her project page on Ravelry, where you can find the pattern she used and knit it up too!  Enjoy!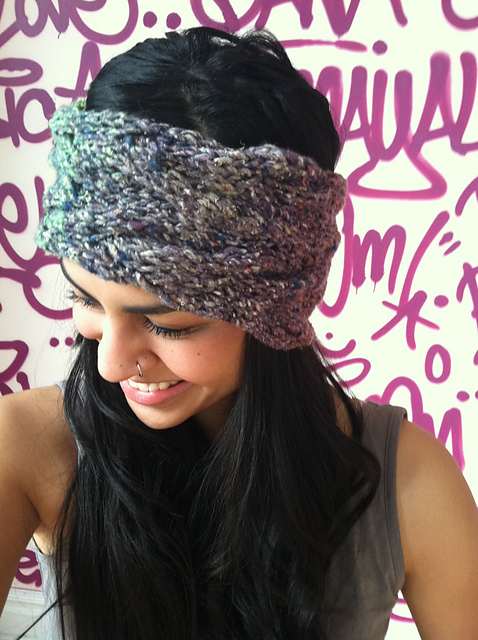 Jess lives in a studio apartment in Brooklyn with her cat and tons of yarn. When she isn't knitting, she is practicing at and managing a yoga studio in Manhattan. She hopes to someday combine the two and be able to yoga and knit at the same time. You can follow her knitting adventures at http://kittenstrength.blogspot.com/
When did you learn to knit and who taught you?
I learned to knit from my best friend's mom when I was 18.  I think she knit our whole lives, but really started getting into it when we were in high school.  I remember she loved to knit just for decoration, she had this huge wicker basket by the front door that she filled with mohair mittens, it was the cutest thing.
I really wanted to learn, even though I thought it looked so hard and my best friend refused to join me because she's allergic to wool.
At first it was really hard to catch on, every time I made the smallest mistake I would have to wait until the next time I saw my friend's mom to fix it for me.  That's so funny to look back on now because I mess up constantly and can pretty much get myself out of any knitting jam 🙂
After I learned, I put it down for a little while until I went to college.  I picked it back up in college because it was a really relaxing/familiar thing to do…also, one of my roommates was Pam Allen's daughter (the former editor in chief of Interweave) so it was also something I could bond over with my roommates. 🙂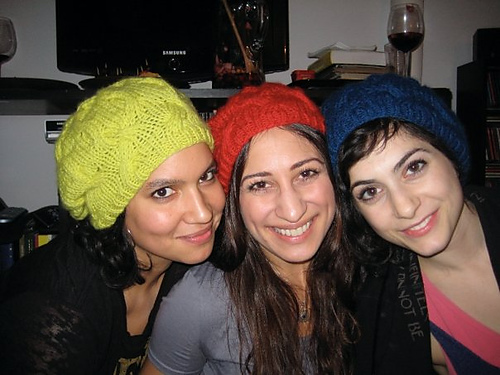 Who is your favorite person to knit for?
I love knitting for all my friends and family, but i really REALLY love knitting for their kids and babies.  The finished products are always so sweet and they are really fast projects 🙂
What are your 3 favorite knitting projects that you've made so far?
It was hard to pick just 3! I loved looking back at the things I made, and the story behind them…but I would say my favorites are a fish bathmat I made, thigh high legwarmers and a where the wild things are sweater & crown.
The bathmat and thigh highs were total labors of love, they took forever and were made with leftover yarn. 🙂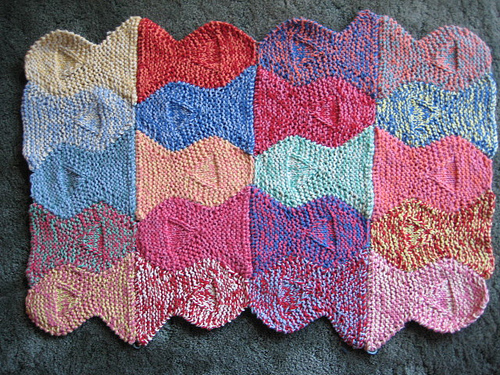 The sweater i really love because its one of the first things I made that I can really put into my everyday wardrobe.  I'm always surprised when I can actually make a piece of clothing that I can wear in public! 🙂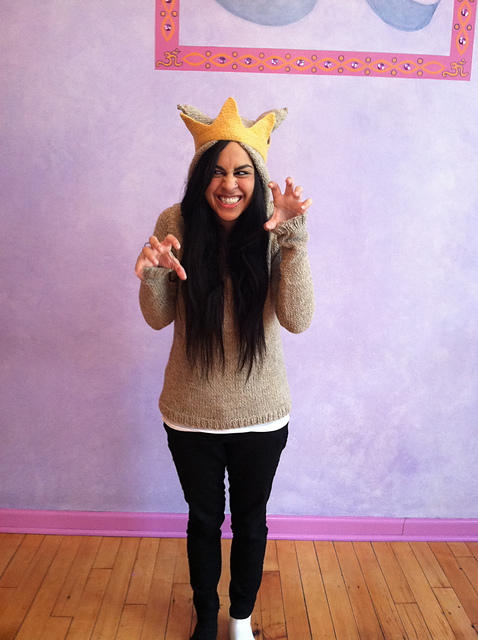 What is your favorite yarn?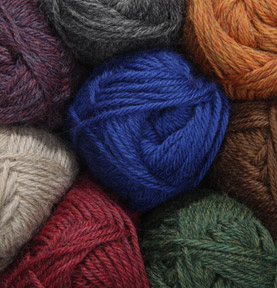 I don't know if I could pick a specific brand, but the type of yarn I always gravitate towards is a nice rustic, wool, worsted weight yarn.
Featured right is Knit Picks Wool of the Andes Worsted Yarn.
What is your favorite stitch?
Stockinette! Classic. 🙂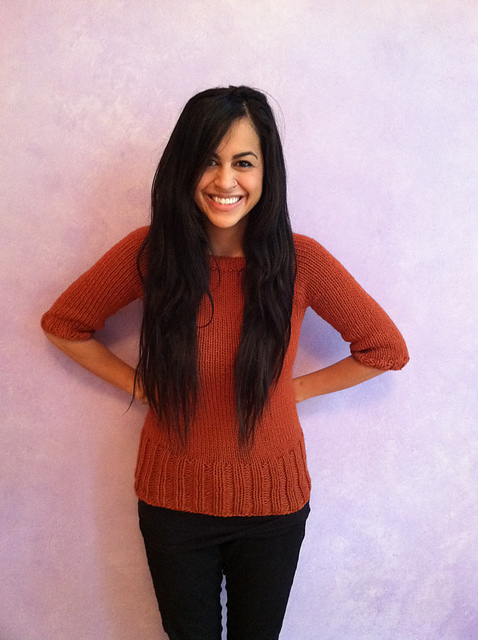 What is your favorite knitting book?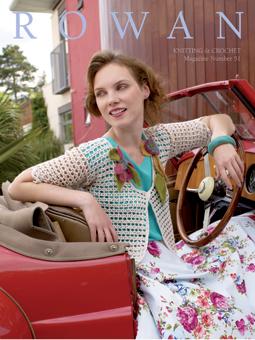 Not sure these count as books, but every single Rowan magazine is my favorite. Everything is styled so beautifully!
If you could design the "perfect" sweater, what design elements would it have?
I think my perfect sweater would be something heavy (worsted or bulky) probably a cardigan that I can double as a coat that I could wear all the time.  I don't mind knitting in pieces (I kind of like seaming, I know crazy).
Probably something classic stockinette, nothing too fancy like cables…a good everyday sweater.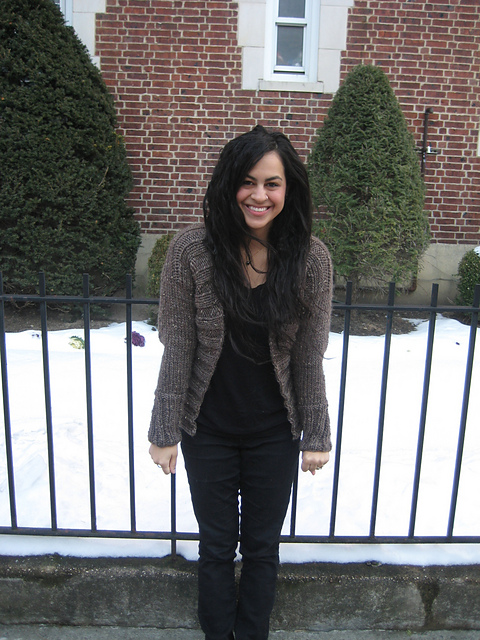 What environment do you like to knit it?
I love knitting everywhere and I do pretty much knit any chance I get.  Living in New York City I take the subway a lot and that is probably where my knitting comes most in handy. It's nice to have something to kind of block out the craziness of the city (and the other people on the train) 😉
Recently I started knitting while walking down the street, I'm not sure I'll keep this up though because people really look at me funny.
What do your friends and family think about your knitting habit?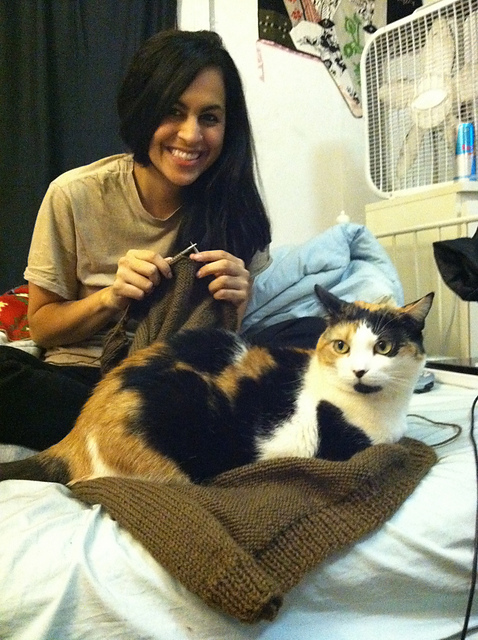 They have gotten used to the fact that I knit all the time, they have actually mentioned that it's weird to see me without my knitting!  Haha.
But I think they all love it, because they are always asking for handknit things 🙂
Looks like Jess's cat loves her knitting habit too!
What do you feel is the most awesome part about knitting?
It's hard to pick the most awesome part, there are so many things I love about knitting.
But I would have to say the thing I love most about knitting is that it is something I have more or less mastered on my own. It's also one of the few things that I can say I feel really confident about and I know I am good at. I love that I can do it anywhere and everywhere (and have!)  Making something beautiful from a few sticks and string will never cease to amaze me.
Check out even more of Jess's fabulous hand knit projects here.  Thanks Jess! -Lauren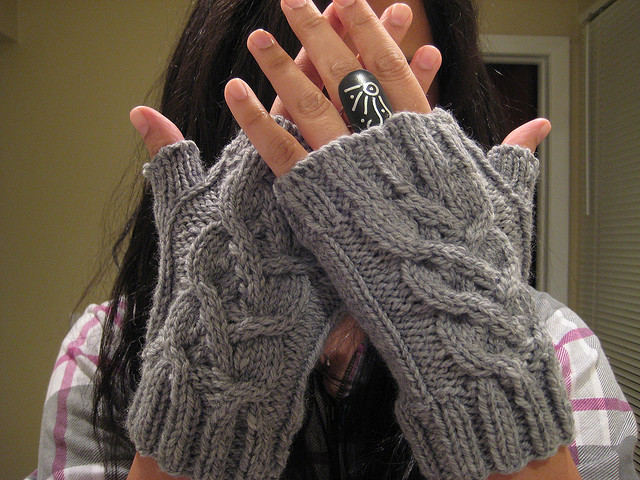 Related posts: