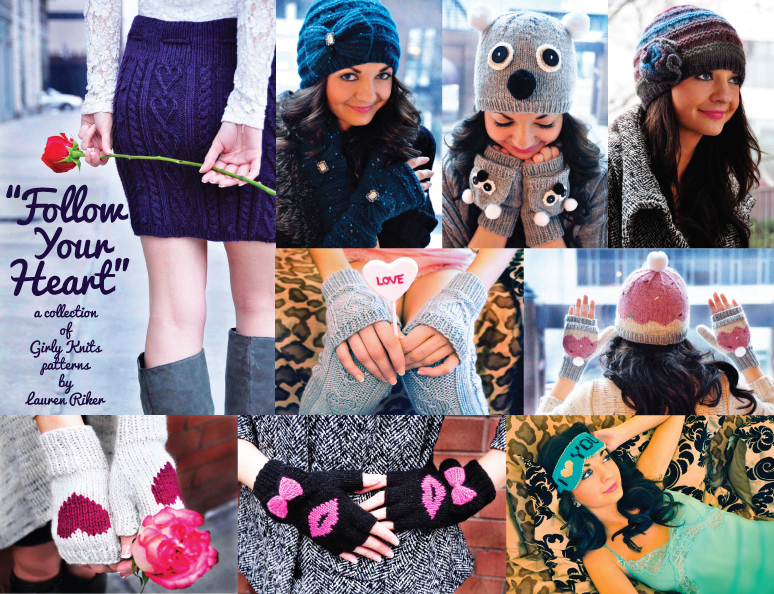 I am so super excited to share my brand new collection of knitting patterns with you, "Follow Your Heart"!  It is a collection of 7 lovely knitting patterns inspired by Valentine's Day and all of the fun girly goodies that come along with it!  The collection includes gloves with flirty valentine's messages, a skirt and legwarmer set featuring a heart cable pattern, playful and romantic reversible eye masks, a cupcake inspired hat and mitten set, and more!  Check out the video of me below doing a show and tell of the collection, and telling a little more about each piece!  A fun thing I also did with the collection was to include girls sizes in the patterns, yay!

In the video, I also share a fun Valentine's Day promotion!:
You can get the full collection of all 7 patterns for only $20 through Ravelry here (you must be signed in for this link to work), or Craftsy here!  You can also purchase the patterns individually for $5-$6 each through Ravelry and Craftsy.
When you purchase the collection you also get a free bonus pattern, "Trifecta"!  If you're on Ravelry, just make sure to add the pattern to your cart and it will be free at checkout.
Receive a very special Girly Knits Valentine from me when you purchase the "Follow Your Heart" collection by February 5th!  Just make sure to e-mail me your mailing address after purchasing the collection.  (Note: This date has passed but I do have some Valentine's left over – if you send me your address I will still send you one until they run out 😉 )
Here are all of the patterns in the collection and their descriptions below:
"Heart Me Forever"
If you were looking for a skirt that you will heart forever that will heart you back, you are in luck!  "Heart Me Forever" is the most lovable skirt you will meet – with a super sweet heart stitch pattern, elegant mirrored cables, charming bobbles, and a playful bow drawstring with pom-poms, you will believe in love at first sight!  This skirt will love you back with it's flattering fitted shape and cozy warmth that only hand knit pieces provide. Knit with the ever hearted Knit Picks Swish Worsted and in the round as one piece for ease of finishing and ability to try on as you go, there truly is nothing not to love.  I hope you love knitting "Heart Me Forever" as much as I loved designing it!
"Heart Warmers"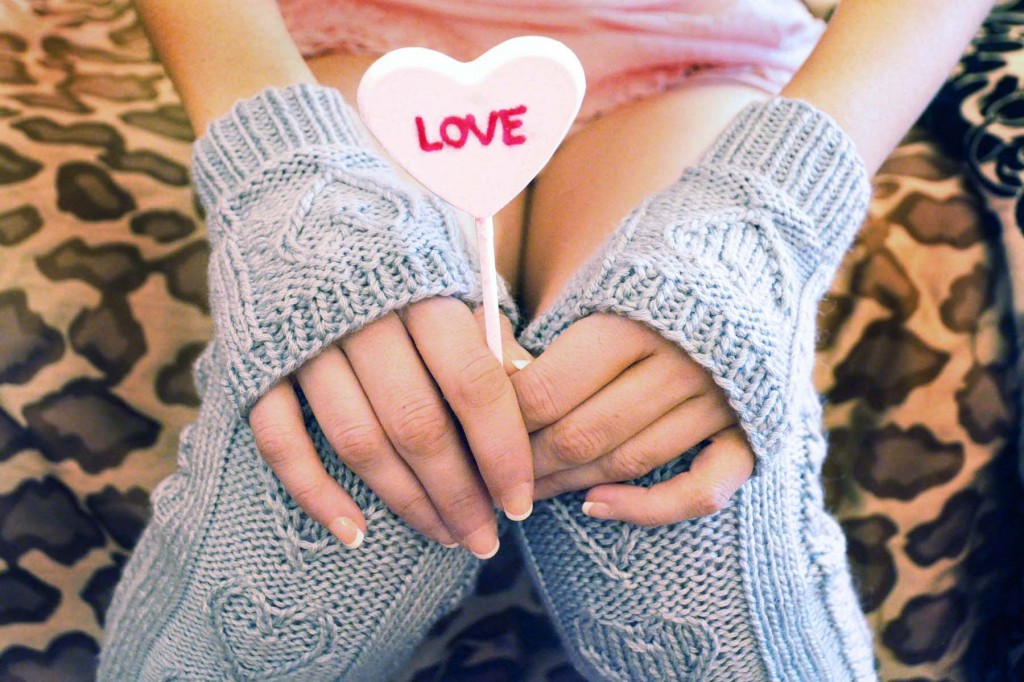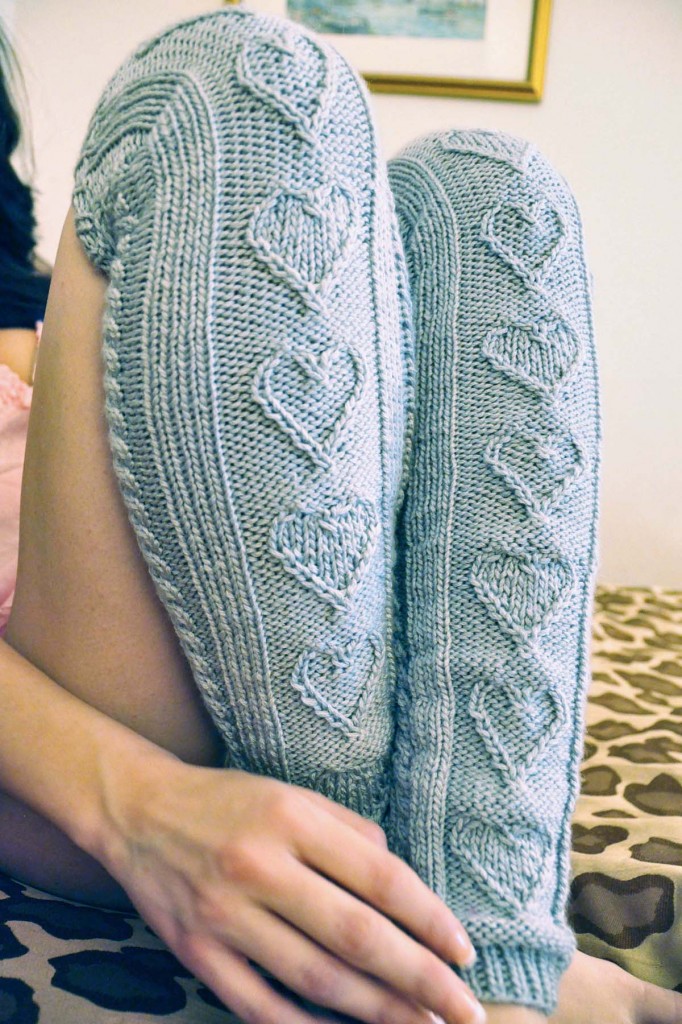 Keep your legs and wrists warm this Winter with the warmest type of cables, hearts!  Hehe so that may not be technically true, but hearts make everything extra warm and fuzzy feeling, right?!  This stylish set of legwarmers and mini mitts are knit in the round for ease of finishing and custom fit!  They also feature a heart cable pattern that alternates between open and filled in hearts for a super fun and fashionable knitting experience and look!  Whether you are making these for yourself or a very special recipient, the love and warmth will surely be felt.  Enjoy!
"Be My Valentine"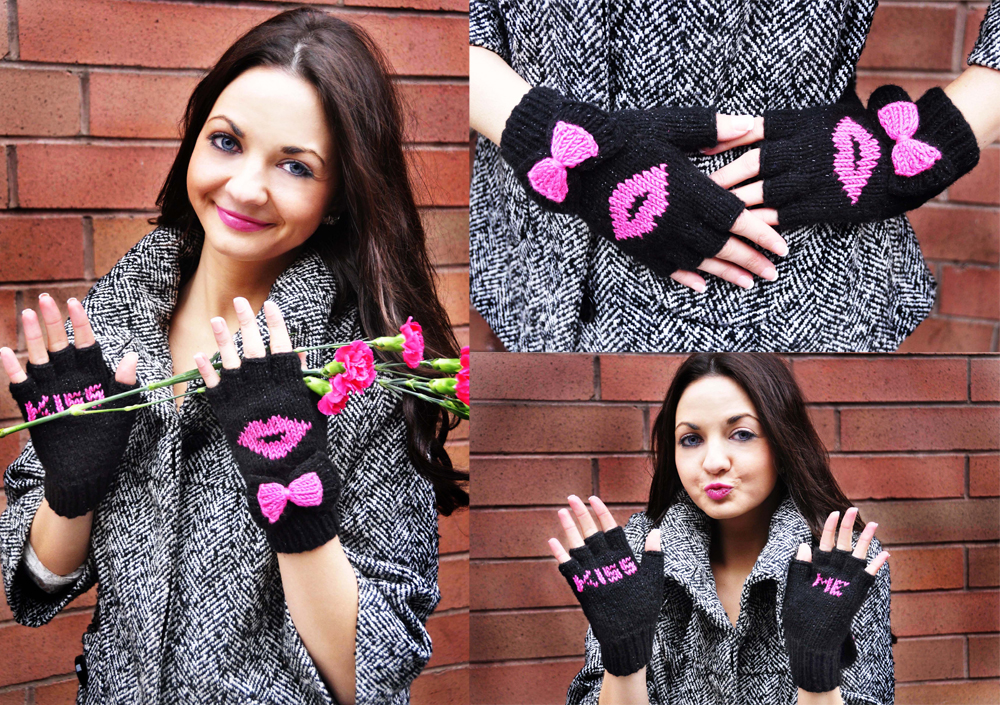 Give "talk to the hand" a whole new meaning when you stylishly wear and flash these fun and flirty fingerless gloves!  With phrases such as "Be Mine", "Kiss Me", and "I Heart You", you will be sure to surprise and delight the recipient of your message. These valentine's day themed gloves feature many different style options to suite your fingerless needs, including an oh-so-cute removable mitten hat!  The pattern contains a heart and lip color chart to sass up your mittens, and interchangeable word charts to make your message your own.  Choose your preferred worsted weight yarn in your favorite color combo and you are good to go! Have fun!
"Eye Candy"

Treat your eyes to something sweet with these colorful knitted eyemasks!  Whether you're sleeping next to the one you love or enjoying your sweet dreams solo, this mask is sure to express your desires!  The reversible eyemask is 2-sided to for double the fun, and includes 10 interchangeable charts for you to choose from!  It also includes 2 blank charts so you can design a custom message and motif of your own!  The mask knits up with less than your average ball 'o yarn, making it a great stash buster, and a bite size project to practice your awesome colorwork skills.  Sweet, colorful, and bite size, this mask really is just like candy!  Yum!  Enjoy!
 "Sweeter Than a Cupcake"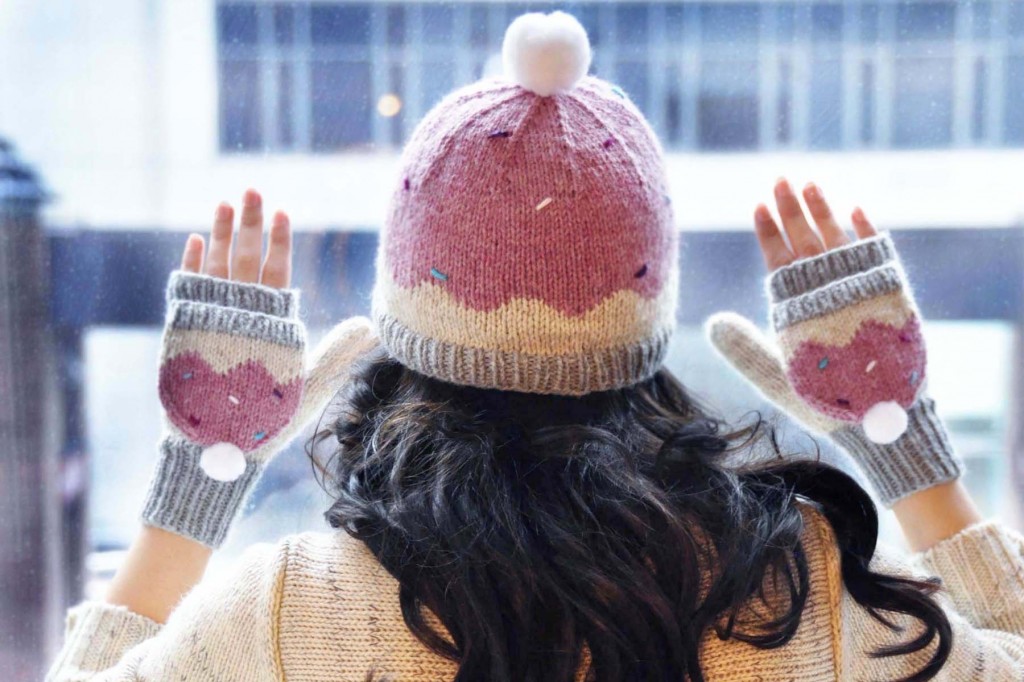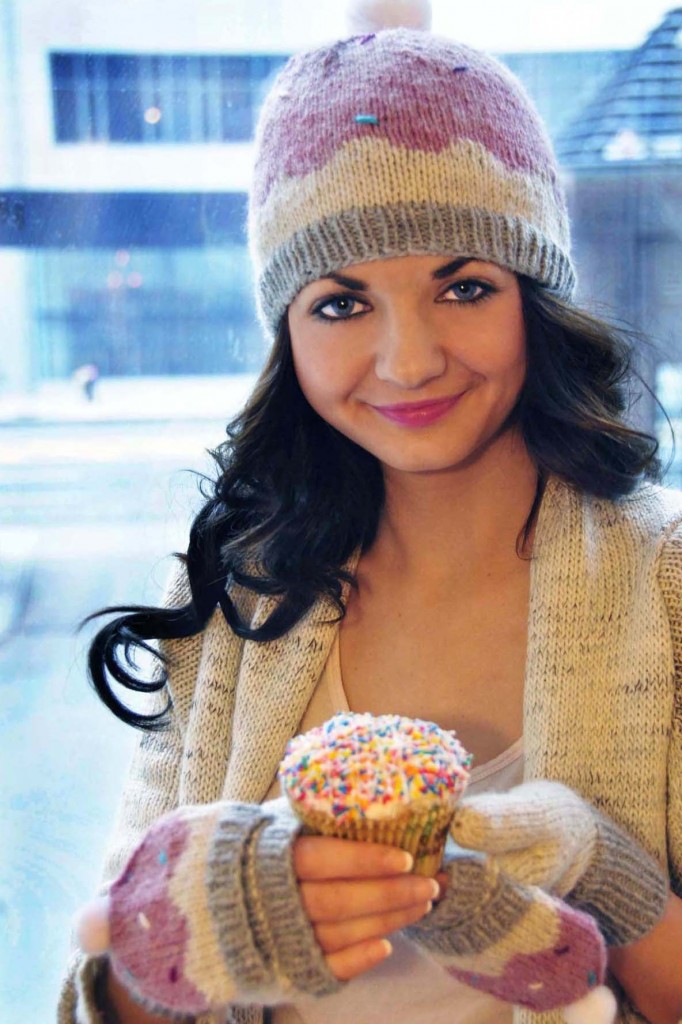 What is sweeter than a cupcake?  You are of course, especially when you're adorned in this cute and cozy hat and mitten set!  The matching hat and mittens are knit up with your 3 favorite colors of cupcake, and topped off with delicious colorful sprinkles and a pom-pom! All pieces are knit in the round, and have a hint of Fair Isle for just a sweet little taste of colorwork. The mittens feature a detachable top for your fingerless needs, which looks just as cute on or off your fingers! While this pattern may cause cupcake cravings, I promise your sweet tooth will be satisfied when you complete this set!  Enjoy!
"Care to Cuddle?"
For times when life is too much and you are feeling in despair, what could cheer you up more than a cuddle from a cute fuzzy koala bear?  You needn't go down under to experience his charms, you can make him up in your favorite worsted weight yarns!  With his big fuzzy ears, and large button eyes, he knows just what to do to make your spirits rise. He will keep your ears warm, your wrists and fingers too, as all he wants to do is cuddle with you! "Care to Cuddle" can be other fuzzy things, as an Owl he will enlighten you with the wisdom he brings!  Just remember as you come out of despair, "Care to Cuddle" wants to be shared!  Enjoy!
"Your Time You Shine"
It is your time to shine girl when you make and rock this super stylish hat and glove set!  Featuring a charming eyelet and garter stitch stripe pattern, and the option of adorning yourself in a big flower or bow, you are sure to shine!  The bow set is made with Patons Lace Sequin with 2 strands held together for extra sequin sparkle, with the addition of bling at the center of the bows!  The flower set uses Lion Brand's Amazing for a fabulously chic color changing effect.  Fear not the flowers, they are actually knitted using dpns!  Whether you want to go glam or bohemian chic, this pattern is sure to suite your unique style!  Enjoy!
Special Vday Promotion!
I hope you enjoy the patterns as much as I loved making them!  You can find all of these patterns on Ravelry and Craftsy, where they are $5-$6, or you can buy the entire collection for only $20 on Ravelry or Craftsy!  For a limited time I will also be giving you "Trifecta" as a free bonus pattern when you purchase the "Follow Your Heart" Collection – simply add the pattern to your cart on Ravelry and it will be free at checkout.
"Trifecta" (Bonus Pattern!)
Staying warm in the Winter can be a challenge with all of the knitted accessories you need to keep track of. Between a hat, scarf, and 2 gloves, something is bound to get lost in the mix.  As the knitter of said items, this causes quite the dilemma! In comes Trifecta, a fun and fashionable accessory with all 3 of your favorite wooly Winter wonders combined!  Trifecta will warm up your head, neck, and hands all at once, with an added bonus of making you look extra cute and cozy in the process!  Knit with two strands of yarn held together in a stylish moss stitch and cable pattern, Trifecta knits up into an extra chunky fabric that is guaranteed to keep you extra warm.  Trifecta will be your new favorite one stop cold-weather accessory, there's no way you'll leave this hand-knit beauty behind!
Purchase the "Follow Your Heart" Collection by February 5th and I will personally send you a Valentine!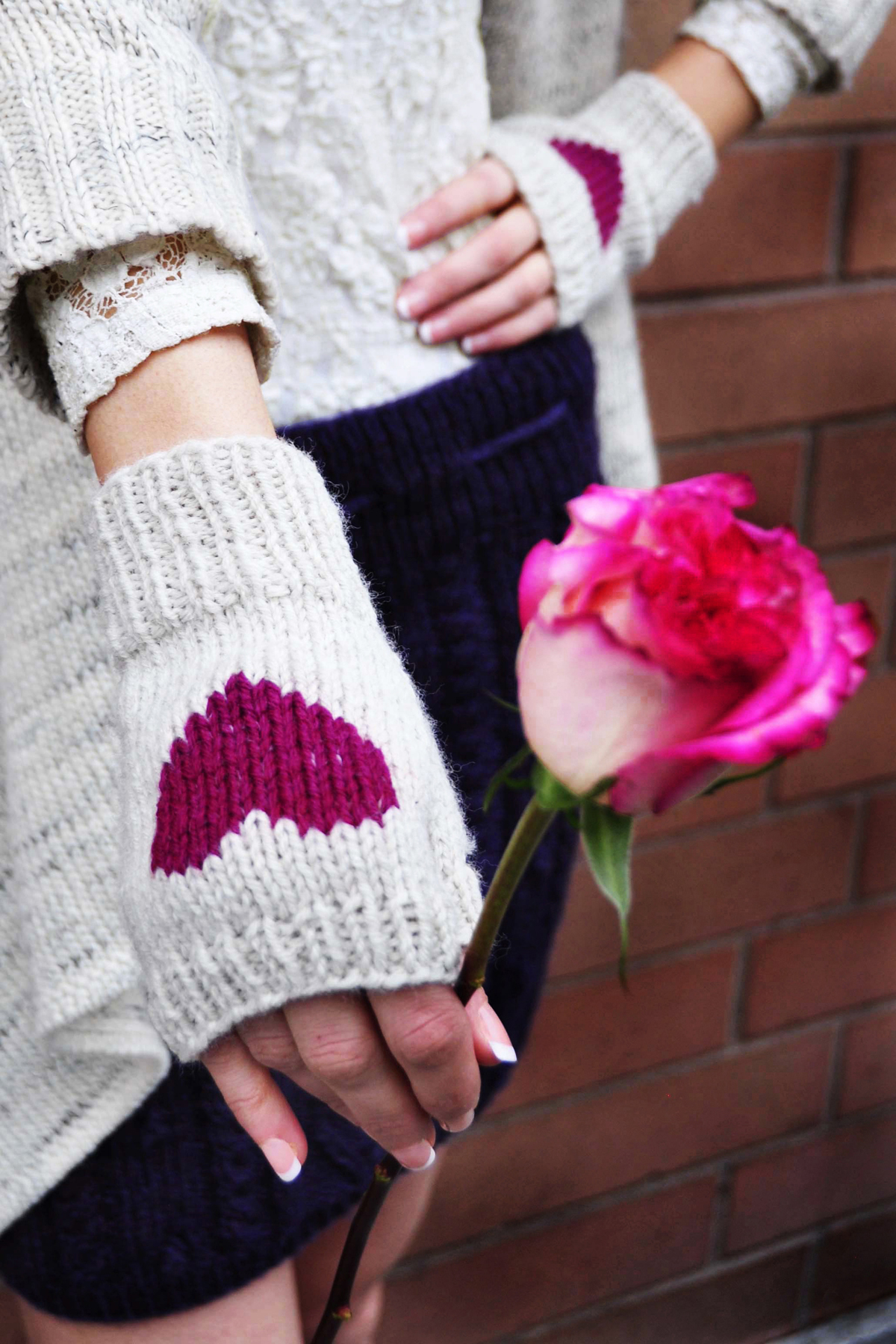 Another fun thing I wanted to do was to send you a Girly Knits Valentine!  Just email me your address to girlyknits@gmail.com after purchasing the collection, and you will receive a fun valentine from me in the mail!  Yay!
Thanks for checking out the new collection!  I hope you enjoy it!  Happy Valentine's Day!
♥Lauren
Related posts: